RMK SIGNATURE SERIES FALL 2008
Introducing the Fall 08 Freshjive RMK signature series line. RMK is a
special edition collection by the owner of Freshjive, Richard Mendel Klotz.
The line focuses on traditional American styling, which to him is the
original influence of street styling. This season's collection is focused
on denim, button up woven and flannel shirts, and finer weight custom made
t shirts. Most of the collection is made in Los Angeles, including
Freshjive's own in house garment manufacturing facility, which has been in
family operation since the mid 1970s.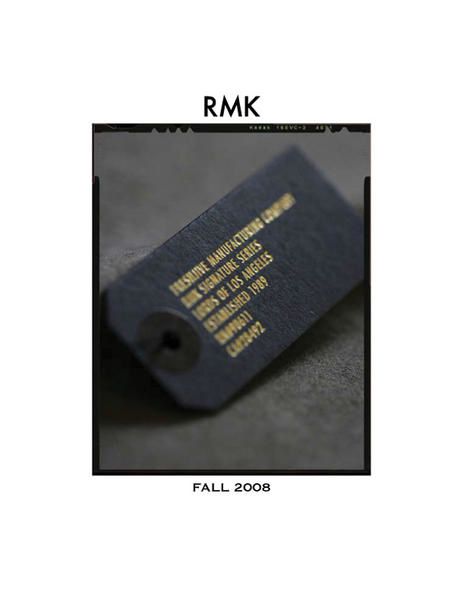 Some detailed highlights include black and white t shirt graphics with
images of iconic American mavericks Allen Ginsberg, William S. Burroughs,
Ernest Hemingway, and Martin Luther King. Woven shirts are made of high
count cottons and wools, in traditional styling. The jeans are available in
various high quality denim, also in a more traditional narrow fit. Some
attention to detailing with the jean trims, including a one rivet design
with RMK's favorite rebuttal in an extremely small typeface which reads,
"DON'T FUCK WITH MERMK" (see the online lookbook).


.